Get Scaled Agile certified in SAFe
Explore lean-agile thinking with training in the SAFe framework. View all Scaled Agile certified courses.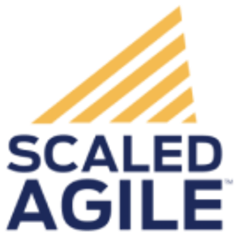 About Scaled Agile
In 2011 Scaled Agile Inc. was formed, but it all started with the book agile software requirements written by Dean Leffingwel. It gave the first glimpse into the SAFe framework, then called the 'Agile Enterprise Big Picture' which combined among others lean, kanban, Scrum and Extreme Programming. This big picture was applied in different organizations whereafter it became the Scaled Agile Framework – SAFe for short. Later, with the help of early adopters, a training and certification program was started. Today SAFe has over 200.000 trained and certified practitioners, and the annual SAFe Summit attracts hundreds of people every year. 
Xebia Academy & Scaled Agile
We are a proud gold partner of Scaled Agile Inc., and offer training coaching and consulting services. As a partner, we leverage authorized courseware to expand our training courses and to equip our customers. Through the Scaled Agile Academy we offer the certified leading SAFe training course which prepares students for the SAFe Agilist exam offered by the Scaled Agile Academy.