How SAFe 6.0 Is Revolutionizing Agile: 6 Key Changes You Need to Know
The Scaled Agile Framework® (SAFe®) helps organizations implement Agile practices across their entire enterprise. SAFe has been around since 2011 and has evolved over the years to keep up with changing markets and emerging practices.

In 2023, SAFe Inc. released the latest framework version—SAFe 6.0. This update includes several key changes that can help organizations achieve true business agility. In this blog post, we'll look at the updates and refinements in SAFe 6.0 and what they mean for organizations that use the framework. Learn more about the key changes.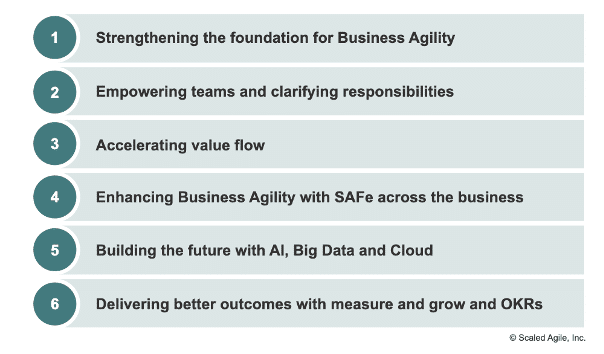 1. Strengthening the foundation for Business Agility
The Lean-Agile Mindset is now represented by the five principles of Lean Thinking and the Agile Manifesto, while the House of Lean has been retired. The SAFe Principles now align with the five principles of Lean Thinking, eight common properties of a flow-based system, and accelerators for eliminating impediments to flow. There is a greater emphasis on developing a Continuous Learning Culture that focuses on relentless improvement and promoting a culture of innovation.

2. Empowering teams and clarifying responsibilities
Scrum Masters have expanded roles to optimize flow, build high-performing teams, and support organizational agility. As per the Scrum Guide, this was always the intent.
Now, it is even clearer that a SAFe Scrum Master is a real Scrum Master. For organizations not using Scrum, "Team Coach" is an alternative title for this role. Updates to the roles of System Architect, Solution Architect, Product Management, and Solution Management reflect the vital collaborations required to support efficient product development flow.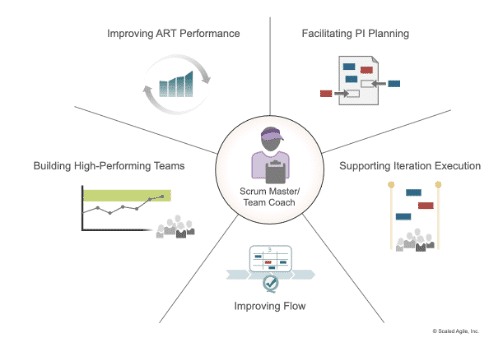 3. Accelerating value flow
The framework now outlines eight properties of flow and eight related accelerators to make value flow faster. New section headers on The Big Picture—Team Flow, ART Flow, Solution Train Flow, and Portfolio Flow—describe incorporating the eight properties of flow and applying the eight flow accelerators from revised Principle #6 "Make value flow without interruptions".
The use of a Kanban (now renamed SAFe Team Kanban) has been clarified, which will help individual teams enhance the flow of value through the ART.
Value Stream Management is now formally recognized as an important portfolio-level responsibility. The Agile Program Management Office is now the Value Management Office (VMO), and it has a new focus to support understanding, measuring, and improving the flow of value.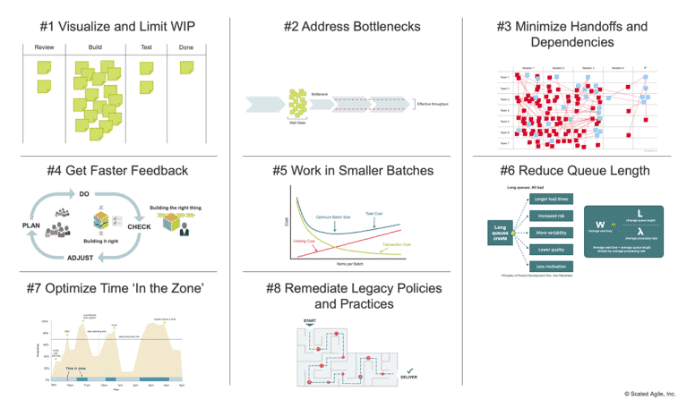 4. Enhancing Business Agility with SAFe across the business
SAFe 6.0 now offers a more robust knowledge base to guide workflows across the entire organization, including a new "Business and Technology" article that highlights five patterns to help organizations integrate business agility with SAFe. These patterns are:
Including business-enabled ARTs.
Launching Agile business trains.
Creating an Agile executive team.
Applying SAFe Lean Portfolio Management.
Engaging the combined portfolio in value streams.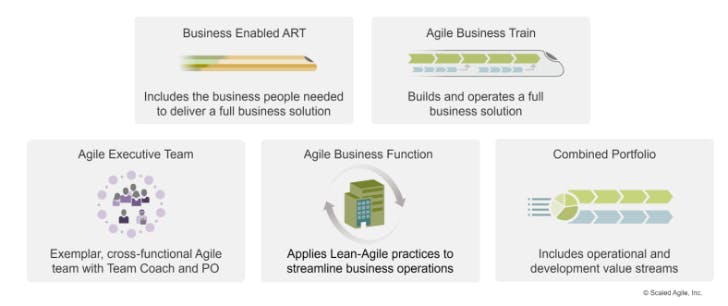 5. Building the future with AI, Big Data, and Cloud

SAFe 6.0 recognizes the importance of AI, Big Data, and Cloud technologies in the future of business and introduces a new competency to provide guidance on how to develop and leverage these capabilities in organizations.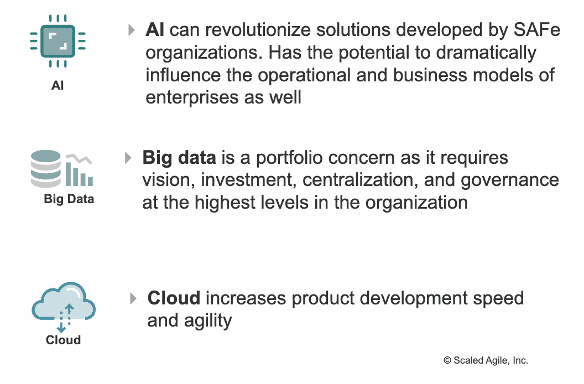 6. Delivering better outcomes with measure and grow, and OKRs
Updates to the Measure and Grow process aim to help organizations take a more data-driven approach to business agility. Additionally, a new OKR tool is included in SAFe 6.0 to help organizations track objectives and key results.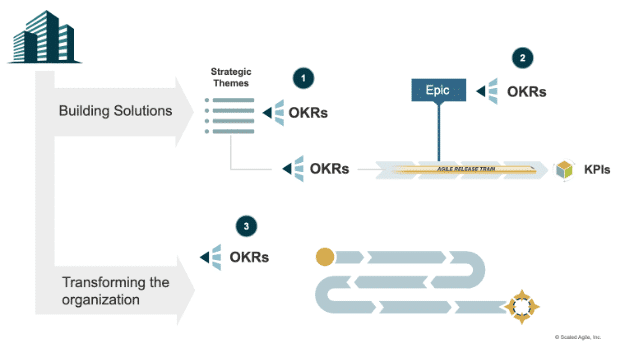 Overall, SAFe 6.0 represents a significant advance in how enterprises integrate SAFe practices into their day-to-day work and achieve the benefits of true business agility. While there are some minor changes to terminology and organization, there are also some significant changes that could impact how you can approach using SAFe.
According to Scaled Agile, SAFe 6 'has produced dramatic improvements in time to market, employee engagement, higher quality, higher customer satisfaction, and improved economic outcomes' (see the image below). What's more, it also helps create a more productive, rewarding, and fun culture.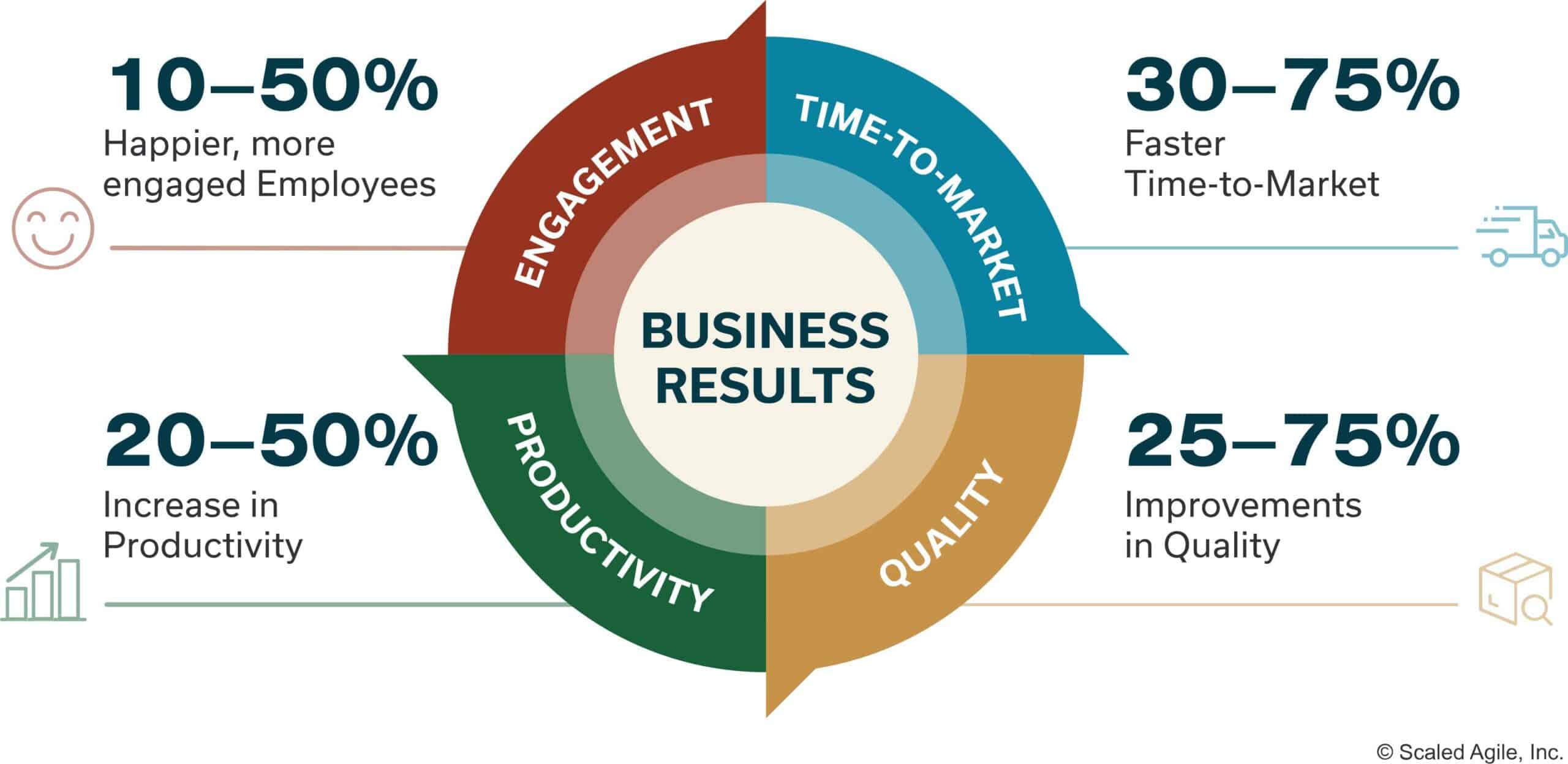 By embracing the above-mentioned updates, your company can become more Agile and stay ahead in an ever-changing business landscape.