Dream big. Every member of your team has the potential to become an SRE guru. 
Any questions about our SRE upskill program?
Niels will gladly help you further with custom training solutions for your organization.
SRE learning journey trusted by large corporations
Be a part of the SRE revolution and craft an exceptional success story for your own. We're trusted by companies like Maersk, PepsiCo, ABN, and KPN.
Unlock the customized learning program for your team
No matter where your team stands in terms of Site Reliability Engineering (SRE) maturity, there is always a suitable SRE learning solution available for you. 
Upskill and reskill your team with our awarded learning journey
Your team deserves the best – our SRE learning journey won the silver award at the Brandon Hall Group HCM Excellence Awards 2022 
Why would you upskill your
people?
With new technologies developing at lightning speed and a challenging job market, finding and retaining the right people is a daunting task. However, there's a shortage in skills rather than a shortage in people. That's why 50% of all employees will have to upskill within the coming five years, World Economic Forum already warned us.

Upskilling your employees is the best solution to bridge that skills gap. We know that upskilling will lift your employees' spirit and give them a sense of belonging, knowing their employer invests in them.

Similarly, talented people are attracted to organizations willing to invest in their personal development. In the end, upskilling is between 72% and 90% cheaper than hiring new talent.

Benefits of upskilling your organization
Increase team efficiency and productivity.
Improve employee retention.
Boost employee belonging and satisfaction.
Your SRE learning journey starts here 
Implementing SRE in your organization is a team sport. A shared understanding of SRE principles and practices among your engineering team is the key to successful implementation. However, Roman was not built in a day, and similarly, developing a shared understanding of SRE principles and practices cannot be achieved through a single course. Embark on the SRE learning journey and elevate your team's SRE skills to the next level!
Our learning journey entails a blend of training and workshops, which are designed to get teams started, from the basics to advanced concepts and masterclasses. Engineering team members can participate in customized learning journeys that fit their SRE knowledge level, while managers can build their knowledge and understanding through specialized keynotes and leadership sessions.
Craft the learning journey that perfectly fits your team
Unlock your team's full potential with a tailor-made SRE learning plan! With five dynamic phases, this plan is designed to help your team discover areas for improvement, set ambitious goals, and embark on a customized learning journey. Say goodbye to generic learning and embrace what you truly need to succeed!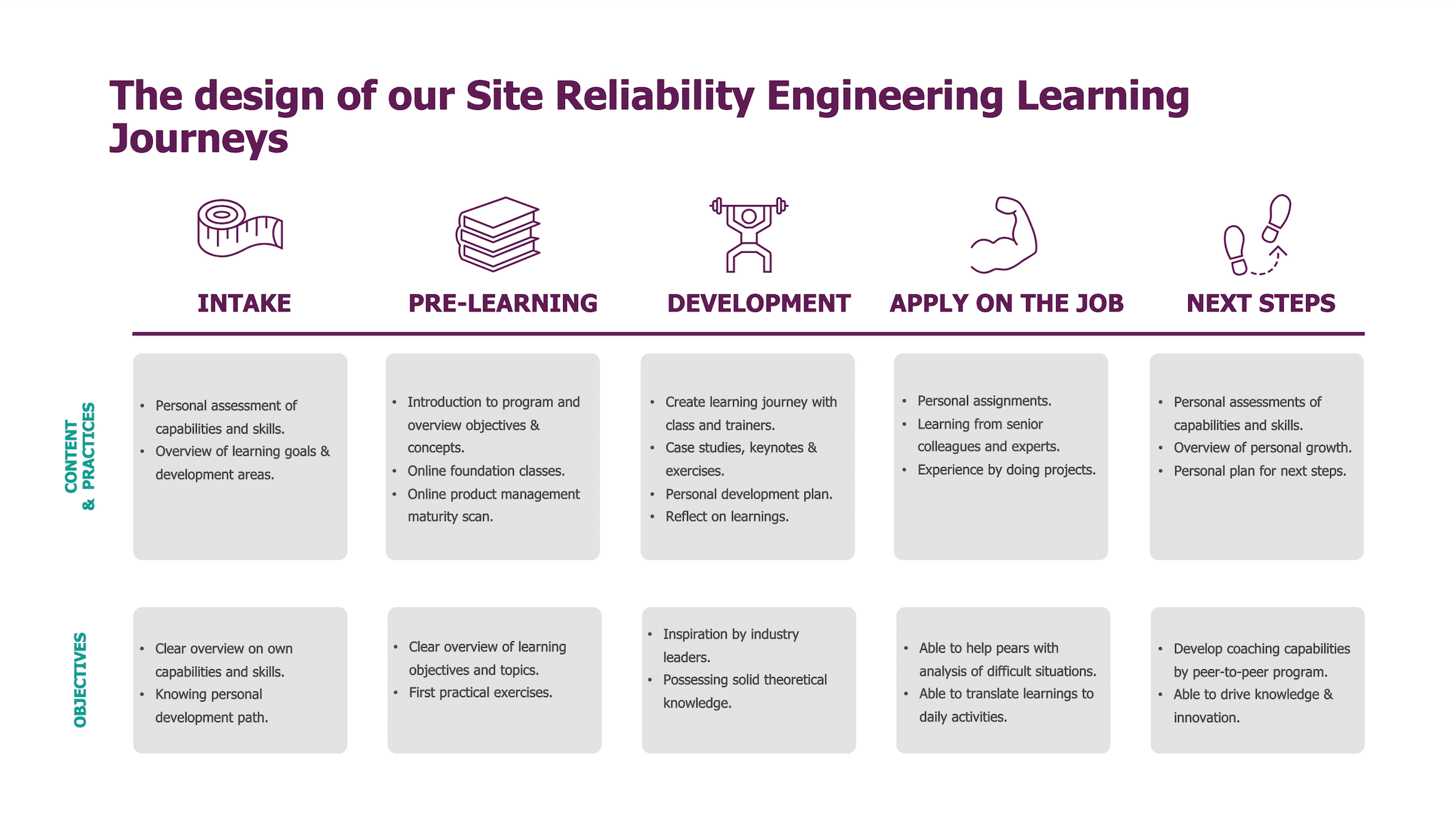 SRE games
Xebia's exclusive SRE games enable you to explore the world of SRE in a playful and engaging manner. 

Masterclass
With a team of highly skilled SRE experts, you will be blown away by their passion for sharing their SRE expertise. 
Keynote
Be captivated by the keynote presentations shared by renowned industry leaders. 
Workshop
Workshops allow participants to apply the knowledge gained from other learning settings to real-life scenarios.   
Embark on your transformative SRE learning journey to go from zero to hero. 
Certified Site Reliability Engineering (SRE) Fundamentals 
During this APMG-certified training, we will take a close look at all the basic concepts and core practices of SRE.
Become an expert
SRE for Everyone & SRE Game 
In this keynote, we will discuss the benefits of implementing SRE practices for your organization and core practices to establish SRE culture. Then, we will explain the rules of the SRE Game for participants to apply their newly acquired knowledge 
Become an expert
Observability 
On top of what a team already has implemented with respect to monitoring, this masterclass adds service chain and value stream monitoring concepts. It also discusses the white-box/black-box pattern in detail and the use of the four golden signals.  
SRE and Cloud 
In this masterclass, we will look at how to plan for a migration to the cloud, what complexity you will encounter, and how – from an SRE perspective – you can simplify and structure your environments.  
Architecting for Reliability 
In this masterclass, we discuss how the boundaries of your systems can help you define SLI and SLO, how to reduce complexity in the architecture, and which design choices you can make for scaling and stability.  
SRE as a Leader 
In this training, participants will focus on how to realize and guide the SRE transformation journey effectively without losing their authenticity as a leader.  
Senior Data Analyst at Maersk
"Due to my current role, the program helped me in two ways:  

Firstly, by expanding my knowledge of SRE, I can provide more valuable insights to stakeholders because I'll be able to foresee what they need before they do.  

Secondly, the program can help me optimize my own architecture, which is something I'm always doing in between new development work.

While the current architecture is mostly cloud-centric, it is very dependent on the PowerBI service. As we move to promote more queries on Azure, I want to have the best and brightest SRE principles in my mind when I start doing this."
Deepen your SRE knowledge
Site Reliability Engineering (SRE) Consulting
Read about how we build reliable and resilient systems and organizations – with a strategy. Besides training, Xebia offers extensive SRE consultancy services. View the website to see how we can help you implement or improve Site Reliability Engineering (SRE) at your organization.

DevOps and SRE whitepaper
Learn how SRE and DevOps are similar and different at the same time. SRE is another way of doing DevOps, but instead of focusing on increasing velocity and collaboration between development and
operation teams, SRE focuses on system reliability. Download our whitepaper about "How to run your IT organization like a software product."
DevOps and SRE
In our paper "Monitoring Value Streams," we look into the relationship between technical failures and unsatisfied customers, as well as the financial impact. For example, how do you measure the impact of an outage on the end-user? Download now to find out.
Webinar: Your reliable IT strategy
We often hear the question, "How to stay resilient without compromising on customer experience and business value?" SRE trainer Niek van Raaij answers this question and many others in this webinar recording about developing a reliable IT strategy yourself.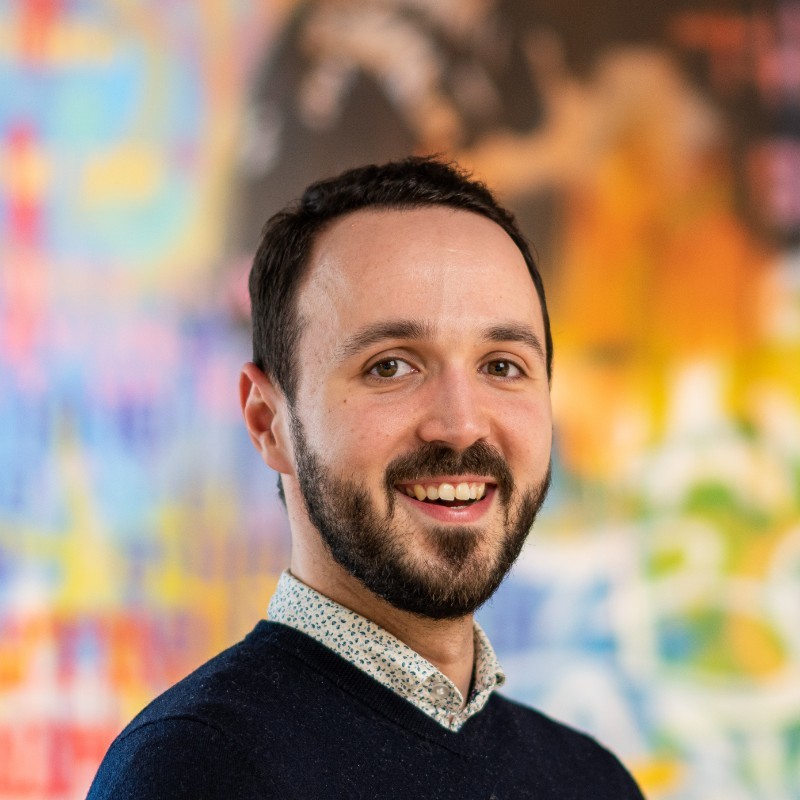 Balász Nagy
Due to the many benefit of SRE, Balász Nagy is a passionate SRE trainer at Xebia Academy.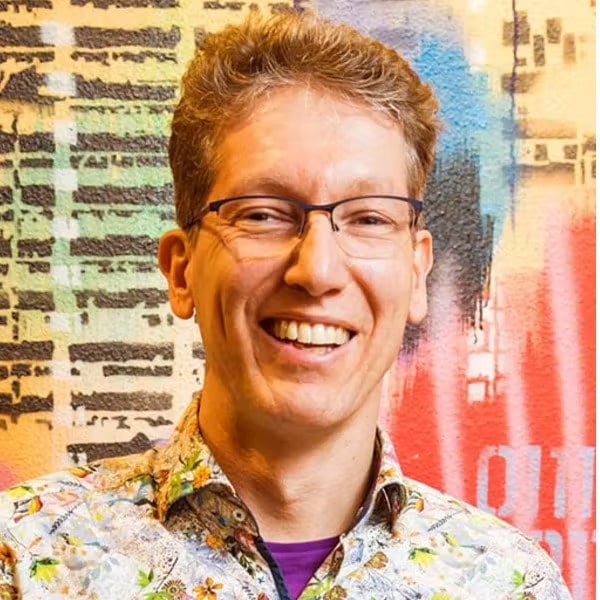 Bastiaan Bakker
Meet Bastiaan Bakker trainer at Xebia Academy. Bastiaan is a trainer and trains on behalf of Xebia the Phoenix Project Game – a DevOps Simulation Game. View Bastiaan's full profile and training courses on Xebia Academy.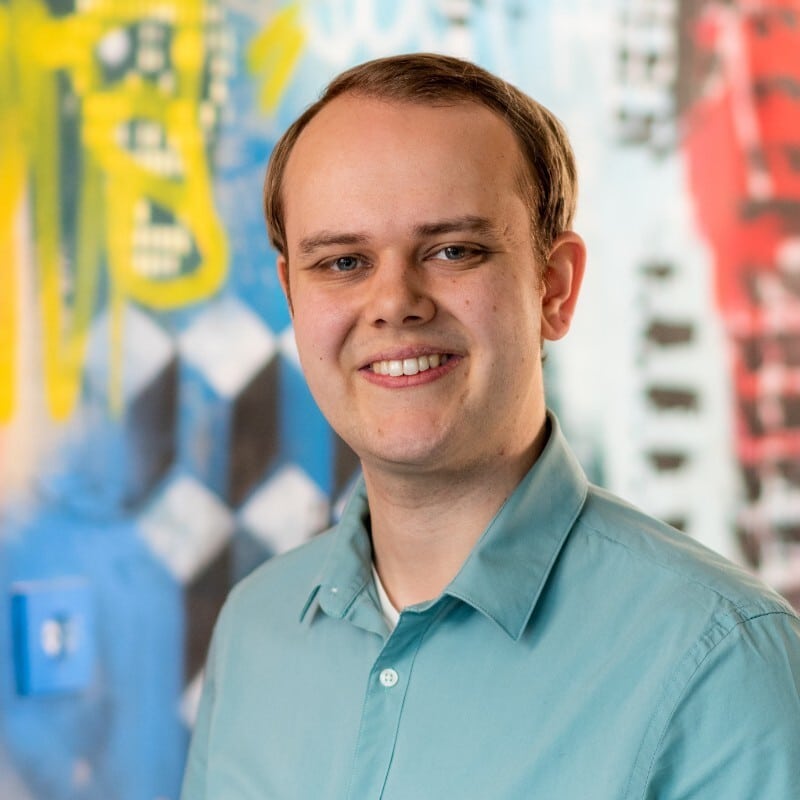 Lennart Timmers
Lennart Timmers is a trainer for Xebia Academy, specialized in Site Reliability Engineering (SRE) and DevOps.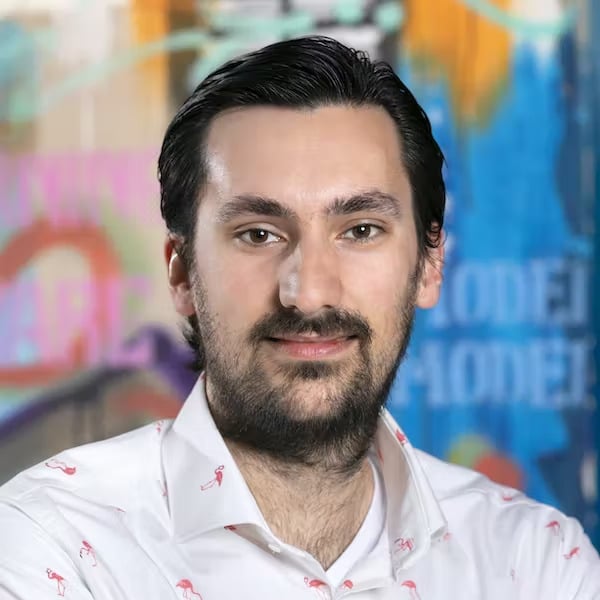 Niek van Raaij
Meet Niek van Raaij, trainer at Xebia Academy. Niek is an SRE and DevOps trainer and provides training on behalf of Xebia such as Certified DevOps Fundamentals Train the Trainer. View Niek's full profile and all training at Xebia Academy.
Ask me anything
Contact Niels Pourchez, onze Tech Training Advisor, voor meer advies over het SRE Upskill Programma. Hij helpt je graag met het beantwoorden van elke vraag die je maar kan hebben!
Contact Niels