We help people, teams and organizations move forward with future tech skills. Empower your workforce by enabling continuous learning with our tailored Upskill Programs.
Tailor-made for your enterprise?
Roy will gladly help you further with custom training solutions for your organization.
Driving digital transformations with technology and consultancy.
With new technologies developing at lightning speed and a challenging job market, finding and retaining the right people is a daunting task.

However, there's a shortage in skills rather than a shortage in people. That's why 50% of all employees will have to upskill within the coming five years, World Economic Forum already warned us.

Upskilling your employees is the best solution to bridge that skills gap. We know that upskilling will lift your employees' spirit and give them a sense of belonging, knowing their employer invests in them.

Similarly, talented people are attracted to organizations willing to invest in their personal development. Ultimately, upskilling is between 72% and 90% cheaper than hiring new talent.
Benefits of upskilling your organization
Boost business results with improved skills.
Enhance employee belonging and satisfaction.
Improve employee retention.
Increase team efficiency.
Prepare for future changes.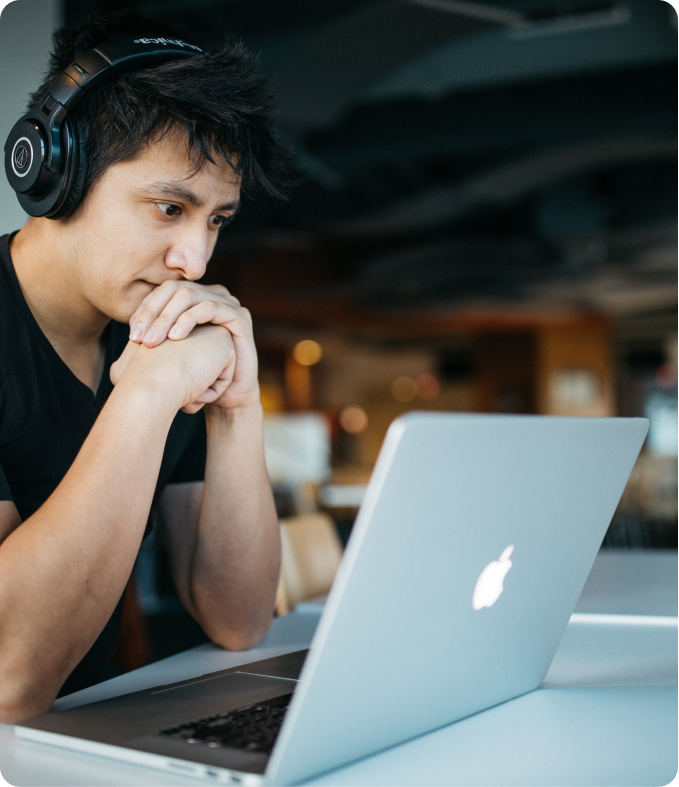 Half of all employees will have to upskill in the next 5 years.
World Economic Forum (WEF), Future of Jobs Report 2020
What our upskill programs offer you
1. Skills gap analyses based on capabilities assessments
With our assessments, we give you the right insights on where your teams currently stand.
2. Customized career scheme with learning journeys
With our learning journeys, we connect strategic and personal goals to customized development paths.
3. Advanced blended training programs
Your employees can choose the learning format they prefer. A combination of in-class, virtual, and on-demand training.
4. Continuous learning to grow workforce skills
By setting up a company-wide learning program, you will ensure continuous learning among your workforce. Think, for example, about starting your Tech Academy.
Facts and
Figures
We are proud to have taught for many years now, collaborating with many partners and participants across the globe. We believe the numbers represent our customers' trust in us and our level of expertise.
About us
We offer training in any preferred format and at any preferred partner. Whether you prefer classroom learning, blended learning, or e-learning, we will create the best, tailored learning solution, together.
In-Classroom Training
In our in-class, instructor-led training, you can expect a mix of dynamic lectures and hands-on assignments. We make learning fun with (board) games and other interactive learning approaches.
Online Training
In our online, instructor-led training, you will experience how we use a combination of different tools and scenes to provide the optimal learning experience. That's how we ensure interaction among participants, making it more personal and fun.
On-Demand Training
Xebia is an official reseller of on-demand training from leading platforms, such as Acloudguru, Pluralsight, and Qwiklabs. You can use these platforms with a discount and can be part of our holistic upskill program.
Ask me anything!
Get in touch with Roy Vulto, Business Development Manager of Xebia Academy. He'll be happy to help you.
Contact Roy