Do you have what it takes to lead your Agile Transformation?
Are you prepared to be the driving force behind your organization's Agile Transformation? Get ready for an exciting journey with the Agile Transformation Masterclass, where you'll unlock the secrets to successful Agile adoption. This immersive program is tailor-made to equip you with the knowledge, skills, and mindset required to lead impactful change.
Imagine the thrill of empowering your teams, fostering a culture of collaboration, and achieving remarkable business outcomes. In the Agile Transformation Masterclass, you'll delve into Agile principles, explore how to lead organizational transformation, and master the art of Agile leadership.
But it doesn't stop there! You'll also connect with a dynamic community of like-minded Agile enthusiasts, where ideas flourish and inspiration abounds.
Join the Agile Transformation Masterclass today, and embark on a transformative journey that will elevate your leadership prowess and shape the future of your organization. Become a catalyst for change; let your Agile adventure begin!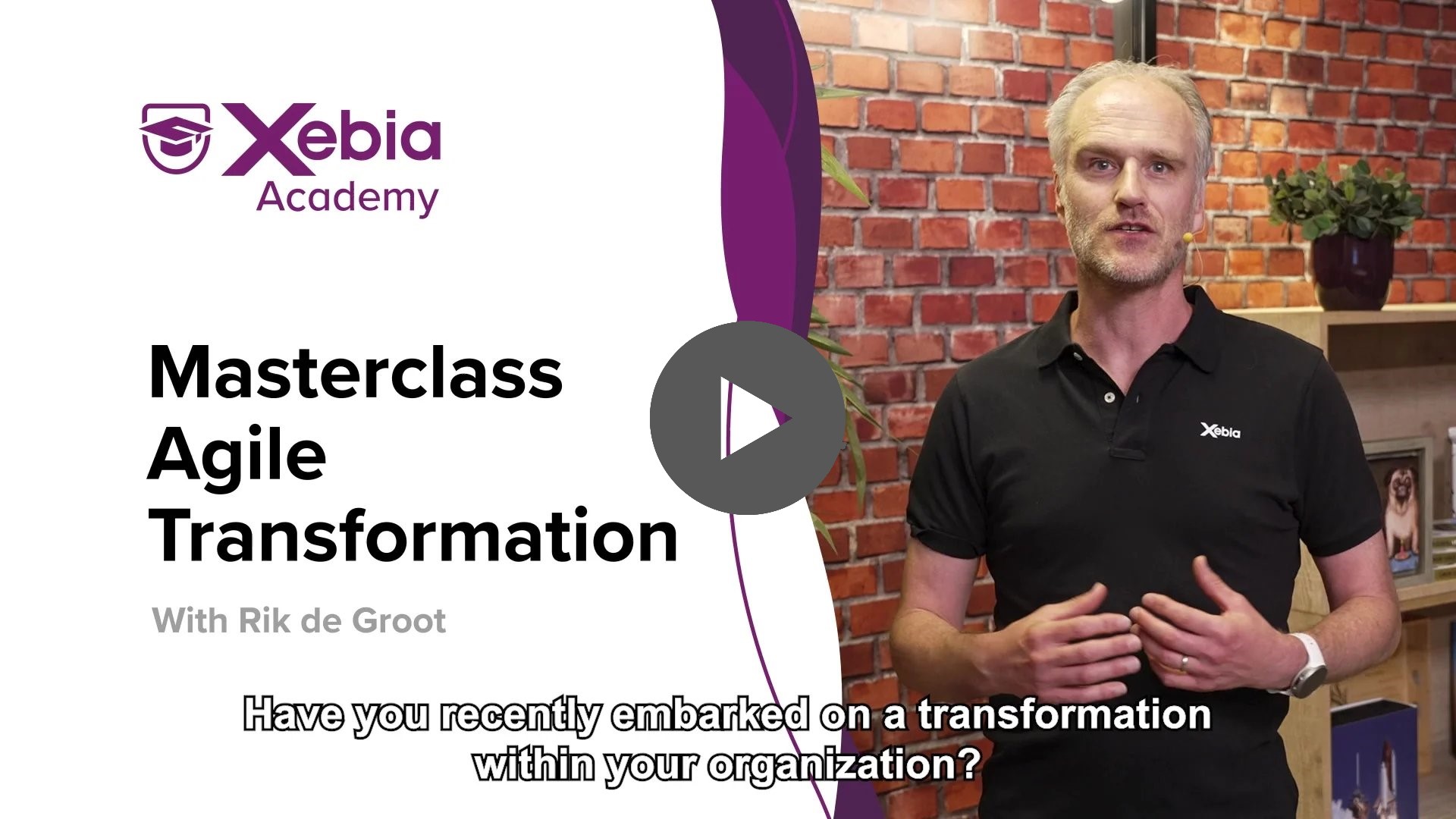 The Agile Transformation Masterclass is perfect for...
The Agile Transformation Masterclass is perfect for individuals and organizations seeking to embrace the power of agility and drive successful transformation. No matter which position you are in, this comprehensive four-day program is designed to meet your needs. You could be a:
Scrum Master
Product Owner
Agile Coach
(Agile) Team Lead
Project Manager
Executive
Regardless of your background or industry, if you're curious about agile transformation and eager to embrace a culture of continuous learning and improvement, this Masterclass is for you. Open the door to new possibilities, learn from real-world case studies, and join a community of Agile practitioners who are shaping the future of work.
What will you learn during the Agile Transformation Masterclass?
This practical program is aimed at learning together with peers in an interactive instructor-led setup. You will gain skills that you can immediately put to use to create more value for your organization. 
Understand the core principles of agility and discover how to create an environment that fosters innovation, empowers teams, and delivers exceptional results. You'll gain the knowledge to support agile practices throughout your organization and drive sustainable transformation.
Your trainer will challenge you to look at Agile Transformation from many angles by offering you inspiring cases and hands-on exercises. We'll reflect on your approach and continuously improve how you deal with setbacks, team members, and management. During the program, you'll also carry out assignments in your own organization and present them to the group. 
After completion of the course, you will know how to inspire rather than instruct. Why? To get the most out of the Agile transformation by motivating them and guiding change.
Program
Day 1: Agile Paradigms and Culture
Understanding different paradigms and their impact on organizational culture.
Creating an agile mindset and fostering a culture of collaboration and adaptability.
Overcoming resistance to change during agile transformation.
Day 2: Deep-dive into Agile Teams dynamics and Scaling
Understanding the dynamics and characteristics of high-performing agile teams, Agile roles and responsibilities, coaching team dynamics, and scaling Agile practices for larger organizations.
Day 3: Agile Leadership and Organizational Change
The role of leadership in driving Agile transformation.
Navigating organizational change.
Overcoming resistance.
Leading by example.
Fostering an Agile culture throughout the organization.
Day 4: Agile Transformation
Strategies and approaches for guiding an organization towards agility.
Assessing organizational readiness for agile transformation.
Creating a roadmap and plan for agile transformation initiatives.
Establishing agile governance and aligning processes and practices.
Change management techniques to ensure successful and lasting transformation.
Agile Trainers
The Agile Transformation Masterclass is led by Agile consultants and certified trainers. They are gurus in the field of Agile Transformation; gurus with a lot of practical experience and in-depth knowledge, which they enjoy sharing with you.
Agile Leadership Learning Journey
Eager to start your Agile Transformation journey with us? Xebia Academy offers various Agile Foundation-level training courses, such as the Agile Awareness for Management course or the Scrum Foundation training course.
As an Agile Leader, consider following our Professional Agile Leadership (PAL-E) or Professional Agile Leadership - Evidence-Based Management (PAL-EBM) courses. Or enroll for a more generic leadership course, like our OKR training or Organizational Behavior Management (OBM) course.
In case you are familiar with the Agile way of working, you can continue with many Professional or Expert level courses to match your ambitions, like in Agile Coaching, Leadership, or Agile Scaling.
Yes, I want to become an Agile Transformation leader!
After registering for the program, you'll receive a confirmation email with practical information. One week before the first meeting, we'll ask you about your dietary requirements. If preparation is desired, you will also receive the literature via email. See you then!
What else do I need to know?
Literature and a tasty lunch are included in the price of the program.
Travel and accommodation are not included.
The Agile Transformation Masterclass can be given in Dutch and English, depending on the wishes of the participants.