Perfect your PO or PM skills to match SAFe!
Your role as Product Owner or Manager in an Agile environment will change when your organization decides to implement SAFe. Or maybe, you haven't worked in an Agile way yet, and all of a sudden, there's SAFe!
This 2-day training will take you on a SAFe journey that is specifically tailored to meet your needs as a Product Owner or Product Manager.
This SAFe training is perfect for
To state the obvious, this training is designed for people who are currently Product Owners or Product Managers. Others that are more than welcome to join us are Business Analysts, Information Analysts, Test Managers, or people who are going to work in one of these roles in a SAFe environment.
The only requirements we have are you know the Agile/LEAN basics, and that you have more than six months of experience working in one of the roles mentioned above.
What will you learn during the SAFe Product Owner/Product Manager training?
During the training, we will focus on SAFe in the context of your role as PO or PM.
You will learn how to go SAFe in a LEAN organization.
How do the principles of this SAFe way of working apply to PO/PM roles?
What is expected of you in a SAFe environment?
You will also understand how to collaborate with the Lean Portfolio Management function and discover how to establish a continuous stream of value with Program Increment Planning.
Also, the value circle of exploring user needs, prioritizing, and releasing new functionality will be discussed.
After two days, you will know how to perfect your role as a Product Owner or Manager according to the SAFe principles.
Program
LEAN, Agile & SAFe: what do they mean for Product Owner or Manager roles?
Customer and user needs: how to continuously expose needs.
Agile Release Train & Program Increments: the implementation of both.
Continuous Delivery & DevOps culture: how both help deliver value.
PO/PM Profile: role description, including profile, responsibilities and activities.
SAFe Trainers
Our trainers are SAFe-certified trainers. They are gurus in the field of Agile and Scaling. Gurus with a lot of practical experience. And, they are happy to share their experiences for you to better understand the official SAFe learning objectives.
SAFe POPM Certification
This SAFe Product Owner/Product Manager training is concluded with an exam. Please note: in order to take the exam, attending both training days is required. The exam and SAFe POPM certificate are included in the price of the training. The exam needs to be conducted online within 30 days of the last training day. If you pass the exam, you will receive your Scaled Agile Academy certificate, plus:
A 1-year SAFe Community Platform membership.
Exclusive access to online learning resources.
Certificate of participation.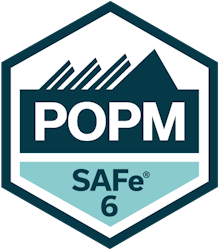 SAFe Learning Journey
Xebia Academy offers four SAFe training courses to meet a variety of needs. Are you at the beginning of your Scaling journey and exploring ways to do so? Then the Agile Scaling Frameworks Overview is perfect for you.
Are you in charge of leading the SAFe transformation? Check out our Certified Leading SAFe training, which is a Professional level course.
Are you looking for a course to get your team up to speed with your new way of working? In that case, we advise you (all) to follow our Certified SAFe for Teams training, specifically designed for teams.
Yes, I want to be a SAFe PO/PM!
After registering for the SAFe Product Owner / Product Manager training, you will receive a confirmation email with practical information. A week before the training course, we will ask you about any dietary requirements and share literature if there's a need to prepare. See you soon!
What else should I know?
The exam and certificate are included in the price.
So is all literature and a delicious lunch.
Travel & accommodation is not included.
This Certified SAFe training is offered in English.