Faster together!
This 2-day course helps people in technical, non-technical, and leadership roles work together to optimize their value stream from start to finish. Participants will learn what DevOps is, why it is important for each role, and how to design a Continuous Delivery Pipeline tailored to their business. Participants work in cross-functional teams to map their current value stream, identify key bottlenecks, and create an action-oriented implementation plan that will accelerate the benefits of DevOps for their organization.
This training is perfect for...
Anyone who wants to learn how to fit DevOps into their (future) SAFe implementation seamlessly. The training is accessible to everyone working in an Agile Release Train. This training is also suitable for managers who want to make informed decisions about DevOps and guide their employees in doing the same.
What will you learn during the SAFe DevOps (SDP) course?
After attending this training, you will be able to explain what the Continuous Delivery Pipeline is and design it for your organization. You will know how to embed Continuous Testing and Continuous Security in the pipeline, use Value Stream Mapping, and optimize flow. We will explore how to work together to maximize the value stream continuously. Finally, you will learn to design a DevOps transformation, explain how DevOps enables strategic business objectives, and understand the CALMR approach.
Program
Introducing DevOps.
Mapping Continuous Delivery Pipeline.
Tuning by Continuous Exploration.
Embedding quality with Continous Integration.
Reduce TTM with Continuous Deployment.
Deliver value with Release on Demand.
SAFe Trainers
Our trainers are SAFe-certified experts. They are gurus in the field of Agile and Scaling with much practical experience. They are happy to share these experiences with you in addition to the established SAFe learning goals.
SAFe DevOps Certification
This SAFe training is concluded with an exam, which is included in the price of the training. Please note: to take part in the exam, attendance is required on both training days. You will take the exam online within 30 days after the last training day. If you pass (>73% of the 45 multiple-choice questions answered correctly), you will receive your SAFe DevOps certificate from Scaled Agile Academy, including:
A 1-year SAFe Community Platform membership. 
Exclusive access to online learning resources of the Scaled Agile Academy.
A certificate of participation, including a digital badge.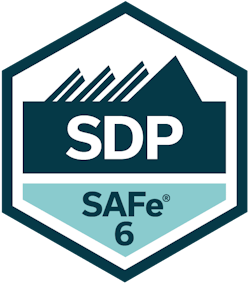 SAFe Learning Journey
The Learning Journey of a SAFe professional always starts with wanting to know how to scale Agile. For a good Agile foundation, you can follow our Agile Scaling Frameworks Overview training. This SAFe and DevOps training combines two worlds that both offer endless education possibilities. Check out our SAFe courses here or pick your next DevOps training.
Yes, I want to learn about SAFe and DevOps!
After registering for the Certified Leading SAFe training, you will receive a confirmation email with practical information. A week before the training we will ask you about any dietary requirements and share literature if there's a need to prepare. See you soon!
What else should I know?
The exam and certificate are included in the price.
So is all literature and a nice lunch.
Travel & accommodation expenses are not included.