Develop workflows with Apache Airflow!
Have you ever scheduled a nightly cron job, then another one from its input a few weeks later, only to discover down the line that data was missing? Apache Airflow eliminates that problem. Learn to author, schedule, and monitor data pipelines through hands-on experience with Apache Airflow.
"It was a hands-on and tangible course. We could apply what we learned in a matter of minutes. The trainer did a great job of answering ad-hoc questions that complemented the material. We appreciated the fact that we could apply what we were taught directly to our company." —Technical Leader & Software Architect, bol.com
This training is perfect for
The Apache Airflow course is aimed at Data Scientists and Data Engineers who want to bring their workflows to production. If you're going to learn the best practices for monitoring, controlling, and running your data pipelines with Airflow, this course is the best way to do so! To get the most out of the day, we recommend you have at least one year of experience working with Python in the Data Engineering field. For example, you should know how to communicate with databases and understand different file formats, like Parquet and JSON.
What will you learn during the Apache Airflow training?
You will learn the terminology and best practices of writing directed acyclic graphs (DAGs) in Apache Airflow and gain hands-on experience with writing and maintaining data pipelines. You will be able to confidently set-up workflows that run smoothly.
Program
The program consists of both theory and hands-on exercises.
The essential components of Apache Airflow
Running and managing workflows
Creating dynamic workflows with Jinja templating
Sharing state between tasks with XComs
You will learn:
The rundown of Apache Airflow user interface
How to create and monitor DAGs
The basics of using the most critical operators
How to create dynamic workflows with branching
How to communicate with external systems, using hooks and connections
How to trigger your workflows with sensors
Apache Airflow Certification
After this training you are able to receive an Astronomer Certification for Apache Airflow Fundamentals. This demonstrates your knowledge of Airflow's core concepts and your ability to make wise architectural decisions, understand applied use cases, and design data pipelines. Once you pass the exam, you will receive an official certificate that you can show off to your organization and peers alike. Here you can find more information about the certification.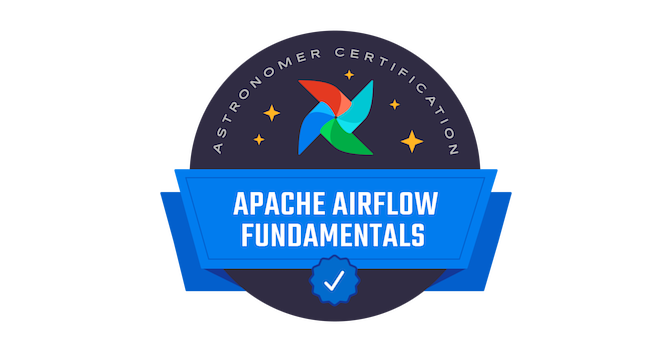 Data Engineering Trainers
This Data Engineering training is brought to you by our training partner, GoDataDriven. GoDataDriven works with experts in their field who are always on the lookout for the most innovative ways to get the most out of data. Your trainer is a data guru who enjoys sharing his or her experiences to help you work with the latest tools. 
Data Engineering Learning Journey
In addition to this Certified Apache Airflow training, Xebia Academy also offers other Data Engineering courses together with GoDataDriven. You will find an overview of these training courses here. 
Yes, I want to know more about Apache Airflow!
After registering for this training, you will receive a confirmation email with practical information. A week before the training, we will ask you about any dietary requirements and share literature if there's a need to prepare. See you soon!
What else should I know?
This training requires a laptop. The hands-on labs are run in Google Cloud Composer. An integrated development environment (IDE), such as PyCharm is helpful for the hands-on labs. 
This course is brought to you by our training partner, GoDataDriven.
Certification and literature are included in the price.
Travel & accommodation expenses are not included.