Discover Scrum in a SAFe context!
You are a Scrum Master and know how to work with your team. What is different about the role of a Scrum Master in a SAFe environment? When your organization decides to implement SAFe, your responsibilities change. Maybe you haven't worked in an Agile way yet and all of a sudden, there's SAFe! This 2-day training takes you on a journey through SAFe, specially tailored to your needs as a Scrum Master.
This training is perfect for...
The SAFe for Scrum Masters (SSM) course is perfect for Scrum Masters who (will) work in a SAFe environment. The training is also very suitable for Team Leads and SAFe Release Train Engineers. To get the most out of this training, it is essential that you know what Agile, Scrum, Kanban and eXtreme Programming (XP) are and you have experience with software and/or hardware development processes.
If you are still at the beginning of your Agile journey, the Scrum Foundation or our Scrum Master courses may be of more use to you.
What do you learn during the SAFe Scrum Master (SSM)?
During this training, you discover how to build high-performing Agile teams using servant leadership and coaching techniques. You learn how to facilitate Scrum events and the effective execution of iterations within a SAFe environment. We explore how to execute Program Increments and support a DevOps implementation. After these two days, you know exactly how you and your team can deliver maximum value on a large scale, for example, with the help of an Agile Release Train (ART).
Program
Scrum & SAFe: we explore Scrum in a SAFe environment.
Scrum Master: the characteristics of the Scrum Master role.
Program Increment (PI) planning: gain hands-on experience with PI planning.
Iterations: how do you best facilitate iterations?
Program Increment (PI) completion: what is needed to complete a PI successfully?
Agile team: what techniques do you use to coach your team?
SAFe Trainers
Our trainers are SAFe-certified experts. They are gurus in the field of Agile and Scaling with extensive practical experience. They are happy to share these experiences with you in addition to the established SAFe learning goals.
SAFe Scrum Master Certification
This SAFe training concludes with an exam that is included in the price of the training. Please note: To participate in the exam, attendance on both training days is mandatory. The exam is taken online within 30 days after the last training day. If you pass (33 of the 45 multiple-choice questions right), you receive your SAFe SM certificate from Scaled Agile Academy, plus:
A 1-year SAFe Community Platform membership.
Exclusive access to online learning resources of the Scaled Agile Academy.
A certificate of participation, including a digital badge.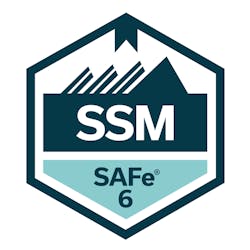 SAFe Learning Journey
In addition to this training for Scrum Masters, Xebia Academy offers four other SAFe training courses that meet a variety of needs. Do you want to learn the basics of scaling? Then our Agile Scaling Frameworks Overview is perfect for you. Are you the person leading the SAFe transformation? Then we offer you the Certified Leading SAFe training on a Professional level. Are you going to work with SAFe? Do you want to get your team up to speed as soon as possible? Then we recommend they follow the Certified SAFe for Teams training, specially created for teams.
Yes, I want my SAFe SM certificate.
After registration for this SAFe training, you will receive a confirmation e-mail with practical information. One week before the training, we will ask you about your dietary requirements. If preparation is desired, you will currently also receive the literature via e-mail. See you soon!
What else do I need to know?
The exam and certificate are included in the training.
The study material and a delicious lunch as well.
Travel & accommodation is not included in the price.