Scrum Startup for Team's
This online course is for you, your team, or your entire organization.
It offers a scalable Scrum learning experience. You will learn the fundamental knowledge that is needed to successfully begin working on a Scrum Team or interfacing with Scrum Teams.
This course is a collaboration with the co-creator of Scrum, Dr Jeff Sutherland. So you get trained in the latest research and thinking based on real-world experience. If you or your organization are looking for consistent, high-quality Scrum training, then this is the solution.
The Online Training
Scrum Inc's online training experience includes a sequence of video's, case studies, motion graphics, resources and a licensing exam. With this high-quality, self-paces course you don't have to worry about timing, travel or logistics; you can get yourself or your teams trained on the core elements of Scrum on-demand.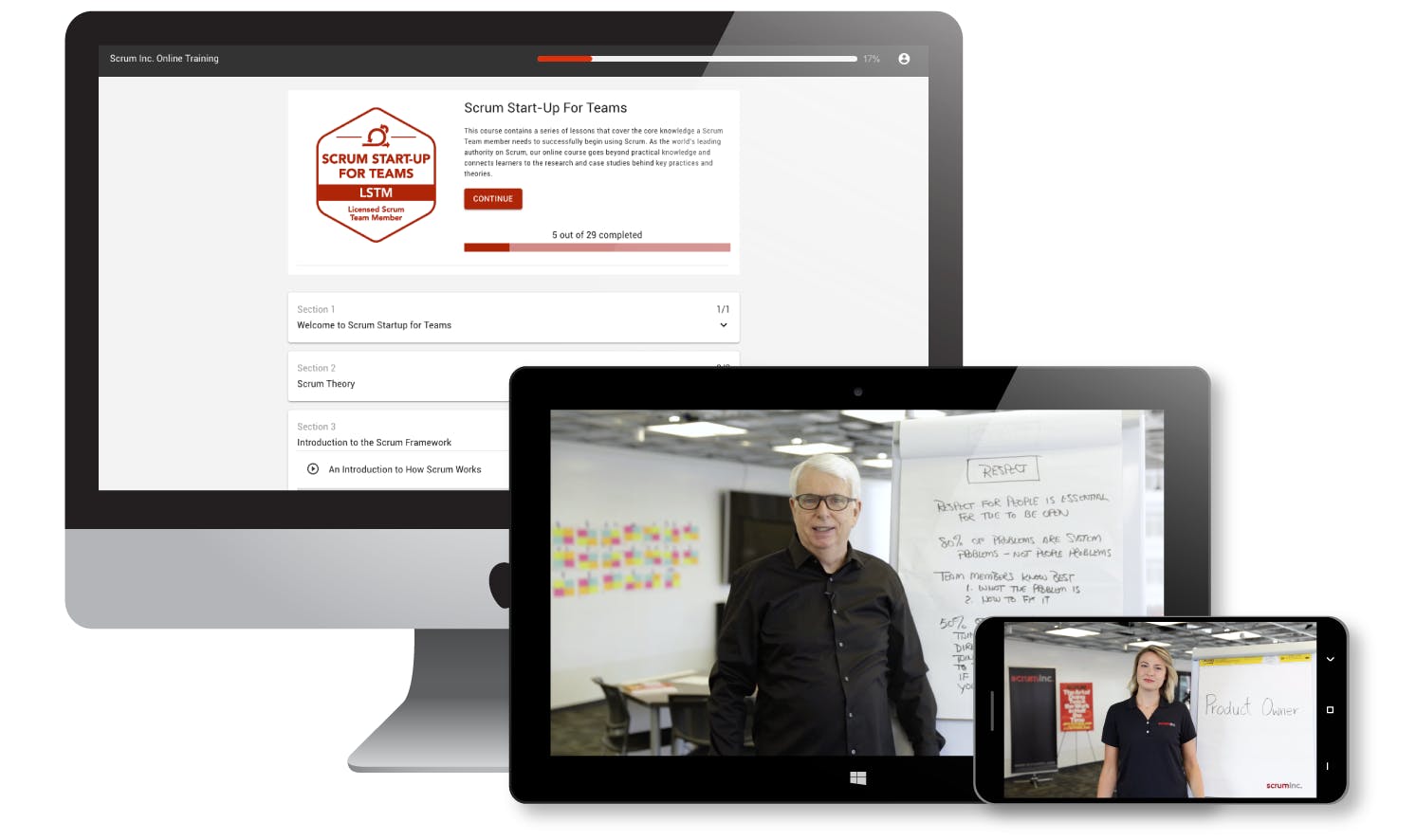 What will you learn during this Online Scrum Training?
Course outline:
Welcome to Scrum Startup For Teams
Scrum Theory
Why Scrum
What is Scrum
The Five Scrum Values
Introduction to the Scrum Framework
An Introduction to How Scrum Works
Scrum Framework Infographics
The Scrum Roles
Introduction to Scrum Roles
The Role of the Product Owner
The Role of the Scrum Master
The Role of the Team Member
What is the Role of Management in Scrum?
Quiz on the Scrum Roles
Getting a Ready Product Backlog: Backlog Refinement and Estimation
Introduction to Backlog Refinement & Estimation
Estimation
Backlog Refinement
Example: Team Using Planning Poker to Estimate at Backlog Refinement
Quiz on Backlog Refinement and Estimation
Scrum Events and Artifacts
Introduction to Sprint Planning & Sprint Backlog
The Sprint
Sprint Planning Resource
The Daily Scrum
Introduction to the Sprint Review
Sprint Review & Potentially Releasable Increment
Sprint Review Resources
Sprint Retrospective
Sprint Retrospective Resources
Closing & Final Exam
In Closing: Just Get Started
Final Exam
Sample Lesson: Understanding the 5 Scrum Values
In this lesson Dr. Jeff Sutherland, co-creator of Scrum, shares how the Scrum Values help establish new cultural norms within your organization that inspire teams and drive success. He also discusses the research and evidence base for how commitment, courage, focus, openness, and respect lead to greater creativity, innovation and health and wholeness for individuals and organizations alike.
In short
Learn everything you need to know as a Scrum team member
Experience it on desktops, tablets, or mobile devices
Lifetime access to all course material 
Completing the final exam will earn you a Licensed Scrum Team Member credential
How to order?
Please let us know how many licences you would like. Use SS4T or Online Scrum Training by Jeff as contact reference.
Based on the number of licences we will send you a payment link after which you will receive your voucher. With the voucher, you can access the online training on the Scrum Inc. platform.
1-9 licenses: €495/person*
10-50 licenses: €495/person
51-250 licenses: €450/person
251-500 licenses: €395/person
501-1000 licenses: €250/person
1001+ licenses: €195/person
* Group admin and reporting features not included.
Get started here: