AWS
AWS is een van de bekendste Cloud Providers ter wereld. Xebia Academy ondersteunt zowel jouw persoonlijke Cloud journey, als die van jouw Cloud teams. Samen met Binx.io en Oblivion bieden we je diverse AWS-trainingen. Nu is het tijd om de kennis en vaardigheden op te doen om aan de slag te gaan!
Ontmoet jouw AWS trainers
AWS Learning Journey
Are you completely new to AWS? The AWS Foundation is perfect for individuals who are looking to build and validate overall understanding of the AWS Cloud. This training is useful for individuals in technical, managerial, sales, purchasing, or financial roles who work with the AWS Cloud. Are you already more experienced in AWS? Then the AWS Champion is the right course for you! After this training you will be able to choose and design architectures using different domains. AWS Lambda Security is made for Developer or Security professionals. During this course you will learn how securing serverless apps differs from traditional environments. Developing on AWS teaches you on a professional level how to use the AWS SDK to develop secure and scalable cloud applications, whereas the Architecting on AWS course provides you in-depth information on how to architect and deploy secure and robust applications on AWS technologies.
Onze trainingspartner in AWS
Met trots onderdeel van Xebia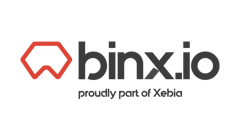 Waarom Xebia Academy
Xebia Academy is met trots onderdeel van Xebia: een internationaal netwerk van gepassioneerde pioniers die bedrijven beter, slimmer en sneller leren werken. Xebia biedt hoogwaardige consultancy, ontwikkelt innovatieve tools en traint mensen die willen blijven groeien. Onze trainers zijn toonaangevende experts, ook wel goeroes genoemd, met ruime ervaring. Meer dan 10.000 deelnemers brengen de kennis en skills die zij bij ons leerden nu succesvol in de praktijk. Ben jij de volgende?