Amazon Web Services training courses
The trend to work from the cloud is growing by the day. Many organizations and pros trust Xebia Academy to specialize them in AWS. Whether you want to become an expert in AWS Lambda, AWS Cli and AWS Machine Learning, Xebia Academy can provide learning journeys for all levels. Accredited AWS expert trainers like Martijn van de Grift and Dennis Vriend, get you to the next level.
Our AWS Advanced Consulting & Trainingspartner
Proudly part of Xebia Group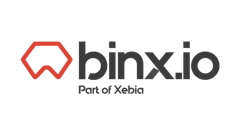 Binx.io
Our AWS training courses (and the Public Cloud Foundation) are provided by our training partner Binx.io. Binx.io develops Cloud-Based Solutions, offers Cloud training and Managed Cloud services and coaches teams. You learn new skills from a Cloud guru who likes to share his or her experience. Binx.io is AWS Advanced Consulting and Google Cloud Platform Premier partner and organizer of events such as AWS Amsterdam and the Google Cloud Developers Group Amsterdam.