Become a SAFe Certified Architect
The SAFe® for Architects course provides the knowledge and skills needed by architects to guide ARTs in their journey toward continuous flow. You'll learn how to collaborate with product managers and the Release Train Engineer, as well as deliver architectural solutions that align with business value. This is a great opportunity for those who are looking for ways to improve their career prospects!
This training is perfect for
Enterprise Architects, Solution Architects, System Architects, and software architects in general who are looking to learn how to work with Product Managers and Release Train Engineers. Also suited for people looking to coach them, such as Scrum Masters, Release Train Engineers, and Agile Coaches.  
What will you learn during the SAFe for Architects training?
If you're ready to take your career up a notch, this 3-day course will provide you with everything you need. You'll learn about Lean-Agile principles, architecture practices, and scaling strategies so that you can help your organization achieve its goals through Lean-Agile methods. We know that being a remote team can be difficult, but we also know that it doesn't have to be. This course will teach you how to collaborate effectively on distributed teams so that your Agile Release Trains are always running smoothly. Don't miss out on this chance—sign up now!  
Program
Exemplifying Agile Architecture.
Architecting for DevOps and Release on Demand.
Aligning Architecture with Business Value.
Developing Solution Vision, Solution Intent, and Roadmaps.
Preparing Architecture for PI Planning.
Coordinating Architecture throughout PI Planning.
Supporting Continuous Delivery during PI Execution.
Supporting New Strategic Themes and Value Streams.
Leading as an Architect during a Lean-Agile Transformation.
Becoming a Certified SAFe Architect.  
SAFe for Architects Certification
The SAFe for Architects training is concluded with an online 120-minute multiple-choice exam, included in the price of the training. Please note: attendance on all three days is required to take part in the exam. The SAFe for Architects exam needs to be conducted online within 30 days of the last training day. If you pass, you will receive your Scaled Agile Academy certificate and get access to the Scaled Agile Community Platform.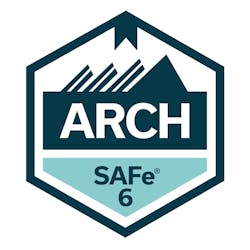 Learning Journey
The Learning Journey of a SAFe professional always starts with wanting to know how to scale Agile. For a good Agile foundation, you can follow our Agile Scaling Frameworks Overview training first, followed by our Certified Leading SAFe course. Or, start with this Expert-level SAFe for Architects course directly.
Practical course information
The exam and certificate are included in the price.
All literature and delicious lunches are also included.
Travel and accommodation are not included.