Microsoft Azure
Cloud is one of the critical building blocks of future IT. It is no longer a matter of if you are going to use Cloud; it is a matter of when. The industry has reached its tipping point. Over the next years, the majority of companies will make a strategic move towards the Cloud. Do you want to learn from people who have experienced firsthand what it means to build on Cloud infrastructure? Together with training partner Xpirit, we offer you various courses that will go beyond certification and provide you with a wealth of practical knowledge to start obtaining skills that bootstrap your career! 
Our training partner in Azure
Proudly part of Xebia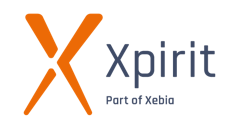 Azure Learning Journey
There are several Azure training courses to match your role. The Certified Azure Foundation is the right training for you if you are a beginner and want to make an "Azure quickstart". The Azure Developer training course is perfect if you are a developer and want to start using Azure as part of your tool and development chain. Even if you have no experience with Azure. Experienced Azure developers or architects can choose between the Azure Functions Masterclass and Azure Architect Masterclass.
Why Xebia Academy
Xebia Academy is proud to be part of Xebia: an international network of passionate pioneers who teach companies to work better, smarter and faster. Xebia offers high-quality consultancy, develops innovative tools and trains people who want to continue to grow. Our trainers are leading experts, also known as gurus, with extensive experience. More than 10,000 participants are now successfully putting into practice the knowledge and skills they learned from us. Are you next?