We also offer the Certified Site Reliability Engineering (SRE) Fundamentals as a Live Virtual Class.
The virtual version of the training course is divided into 4x4 hours. The course dates for 2023 are not planned yet, but will be soon.
The in-person classes are 2 whole days from 9:00 till 17:00 CET and take place on these dates: December 15 & 16.
Make systems more reliable and resilient with SRE!
Are you already working with DevOps? But do you feel like reliability, scalability, and stability could be improved? Site Reliability Engineering (SRE) is a method developed by Google to manage services and make them more reliable and resilient. During this certified 2-day training, you will learn what SRE is, how to get started with it in your own organization, and apply the gained knowledge in a serious game.
This Certified SRE Fundamentals training is perfect for...
We invite anyone who is involved in IT Development, Operations, or Service Management to join us. Especially if you are the one in charge of reliability, monitoring, or operations. Previous participants include CTOs, Product Owners, DevOps Engineers, Operations Managers, Software Developers, Incident and Change Managers, System Administrators, and IT Architects. No specific prior knowledge is required.
What will I learn during this Site Reliability Engineering training?
In short, you will learn the fundamentals of SRE. This is a Foundation level course, so we start from scratch. We will explore how SRE relates to DevOps and what business benefits come with the use of SRE. After the training, you'll be able to get started with SRE in your organization, as well as create an SRE culture based on its key elements.
Program
You will learn to:
Monitoring, testing, infrastructure, build, and deployment automation within SRE.
Measure the right points in the value stream.
Conduct blameless post-mortems.
Encourage feedback and transparency.
Identify key characteristics of the operational and organizational model for Site Reliability Engineering (SRE).
Apply SRE best practices for Continuous Improvement.
Promote a Safe-to-Fail environment within your organization.
During the training, we will play the Site Reliability Engineering game. During the game, you will be challenged to apply the new knowledge in a safe environment. 
SRE Trainers
This SRE training is led by experts in their field who we also refer to as gurus. Your trainer is someone with extensive IT and software experience, who enjoys sharing his or her knowledge and skills to help you improve your performance.
SRE Fundamentals Certification
The exam and APMG certificate are included in the training. The exam can be taken at a moment of your choice (Within 1 year of the training). If you get at least 65% of the 40 multiple-choice questions correct, you will pass the exam and receive your certificate. After registration, you will get access to a mock exam.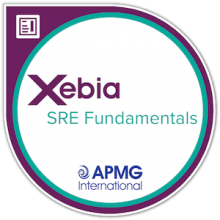 Yes, I want to know more about SRE
After registering for this training, you will receive a confirmation email with practical information. A week before the training we will ask you about any dietary requirements and share literature if there's a need to prepare. See you soon!