Google Cloud Platform trainingen
Wil je gecertificeerd worden of IT-infrastructuur naar de cloud migreren? Specialiseer dan in Google Cloud Platform. Xebia Academy biedt eersteklas training voor professionals en organisaties, op elk niveau. Als geautoriseerde Google trainingspartner geven onze ervaringsdeskundige trainers training aan developers en engineers om hun vaardigheden in GCP te verbeteren, in een leerervaring die je niet snel zult vergeten.

Onze Authorized Google Cloud Training Partner
Met trots onderdeel van Xebia Group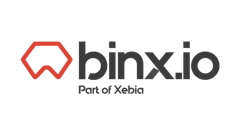 Cloud Technology Learning Journey
Is Cloud nog compleet nieuw voor je? Xebia Academy biedt een Public Cloud Foundation training van twee dagen, met name geschikt voor IT Managers die Cloud opties willen verkennen. Wil je als Developer of Architect leren werken met Azure, AWS, Google Cloud of Alibaba Cloud? Dan kun je kiezen uit diverse Professional level trainingen.
Wil je echte expert skills leren? Kies dan bijvoorbeeld voor één van onze Azure Masterclasses of word AWS Champion.