Google Cloud Platform training courses
Want to get certified or migrate your IT infrastructure to the cloud? Then specialize in the Google Cloud Platform. Xebia Academy offers first-class training for professionals and organizations, at any level. As authorized Google Training partner, our expert trainers give developers and engineers the training to improve their skills in GCP, in a learning experience that you won't forget.

Our Authorized Google Cloud Training Partner
Proudly part of Xebia Group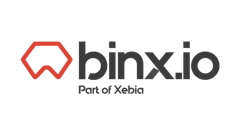 Cloud Technology Learning Journey
Is Cloud completely new to you? Xebia Academy offers a 2-day Public Cloud Foundation course, especially for IT Managers who want to explore Cloud options. Are you a Developer wanting to work with Azure or AWS? There's a variety of Professional level training courses for you to choose from.
Looking for some expert skills? Register for one of our Azure Masterclasses or become an AWS Champion.