Since organizations often employ highly critical cloud-based applications, cloud security is a most sought-after skill. The demand for skilled people, who can ensure that all apps, data, and resources stay safe, will continue to grow. Do you want to become THE Azure Security expert?
With this course, you gain all the knowledge and skills needed to implement security controls, maintain your organization's security posture, and identify and remediate security vulnerabilities. Taking the Microsoft AZ-500 certification exam (once) included!
Become the Azure Security expert your organization needs!
Within an IT and cloud environment, the first priority – and constant concern – is to properly secure all resources while making them available to those users that require access. This Azure Security training course will teach you how to manage identity and access, implement platform protection, perform security operations, provide role-based access, and secure data and applications on the Azure platform.
After completion, you will know how to implement highly secure infrastructure solutions in the Microsoft Azure platform. You will also have in-depth knowledge of the Azure security core services and capabilities.
This Azure Security Technologies (AZ-500) training is perfect for…
...IT professionals and security-focused IT Engineers who wish to become experts in Azure Security Technologies. This course focuses on designing, configuring, and implementing security tools and controls in Azure. The course will also be helpful to any engineer wanting to specialize in providing security on Azure-based digital platforms.
If you want to play an integral role in protecting your organization's data in an Azure environment, then this is THE course to take.
What will you learn during the training?
With this comprehensive Azure security training, you will learn all about:
Managing Azure identity and access.
Implementing Azure platform and network protection.
Managing Azure security operations.
Securing data and applications in the Azure environment.
In addition, the various labs will provide you with hands-on experience to empower you in the real world.
Program
This AZ-500 training consists of 4 parts, each containing several modules and labs.
PART 1: Manage identity and access
This first part covers the core: managing identities and access to resources.
Modules:
Secure Azure solutions with Azure Active Directory.
Implement Hybrid identity.
Deploy Azure AD identity protection.
Configure Azure AD privileged identity management.
Design an enterprise security governance strategy.
This part is complemented with 6 Labs during which you will get hands-on experience in Role-Based Access Control (RBAC), Azure Policy, Resource Manager Locks, MFA, Conditional Access and AAD Identity Protection, Azure AD Privileged Identity Management, and Implementing Directory Synchronization.
PART 2: Implement platform protection
Next, we will teach you how to implement platform protection, including topics like Network Security Groups, Azure Firewalls, Container Security, and much more.
Modules:
Implement perimeter security.
Configure network security.
Configure and manage host security.
Enable Containers security.
3 Labs follow this part: Configuring and Securing ACR and AKS, Azure Firewall, and Network & Application Security Groups.
PART 3: Securing data and applications
During this training part, you will learn about managing security options with tools such as the Azure Security Center, Azure Monitor, and Log Analytics.
Modules:
Deploy and secure Azure Key Vault.
Configure application security features.
Implement storage security.
Configure and manage SQL database security.
This part is also followed by 3 Labs: Key Vault (Implementing Secure Data by setting up Always Encrypted), Securing Azure SQL Database, and Service Endpoints and Securing Storage.
PART 4: Manage Security operations
During this final part of the AZ-500 learning path, you will learn how to configure security policies, enable auditing, leverage Key Vault, and complete many other security management tasks.
Modules:
Configure and manage Azure Monitor.
Enable and manage Microsoft Defender for Cloud.
Configure and monitor Microsoft Sentinel.
This part is concluded with 3 Labs on Azure Sentinel, Azure Security Center, and Azure Monitor.
Azure Certification & Learning Journey
It's simple: Security in the Cloud is massive and growing. This Azure certification shows that you have the knowledge to help your organization keep networks, data, and applications secure in the cloud-based world.  
Having successfully completed the modules and labs of this training, you will no doubt pass the AZ-500 Microsoft Azure Security Technologies exam. Upon passing the exam, you will receive the certification of Microsoft Certified: Azure Security Engineer Associate. And even if you do not plan to take the exam, this training and hands-on labs will greatly help you on your way to the deployment and management of Microsoft Azure security technologies.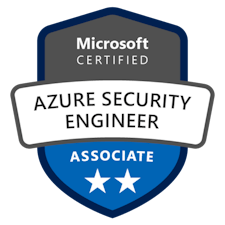 To help you get started with Microsoft Azure, we offer you the Certified Microsoft Azure Fundamentals (AZ-900) course, which teaches you all the Azure basics. In addition to that, you can follow the more role-oriented Certified Microsoft Azure Administrator (AZ-104) and Certified Microsoft Azure Developer (AZ-204) courses, for Administrators and Developers respectively. Our Designing Microsoft Azure Infrastructure Solutions Design (AZ-305) is also a Professional-level Microsoft Azure training course you can follow. For further deepening, we offer Expert training for those of you who want to master Azure DevOps: Certified Microsoft DevOps Engineer Expert (AZ-400).
Our Microsoft Azure Trainers 
This Microsoft Azure training is hosted by our training partner Xpirit. The trainers of Xpirit are skilled Consultants who love to share their experience with you. This group of ambitious Architects, Developers, Consultants, Trainers, and Coaches is specialized in DevOps, Cloud Architecture and Cloud-Powered Intelligence. Xpirit won the Microsoft DevOps Partner of the Year Award in 2018 and is a Microsoft DevOps Elite Partner.
Yes, I want to start working with Azure Security Technologies!
In that case, this training is the perfect start. After registration, you will receive a confirmation email with all the practical information. We look forward to seeing your enrollment!
Prerequisites for this training:
For successfully completing the AZ-500 training, knowledge of security best practices and industry requirements, as well as of most Azure services, will be necessary. In addition, you should be experienced in Cloud and on-premises core services (Azure workloads etc.), and familiar with basic IT security principles, protocols (VPN, IPSec, SSL), and encryption methods. Also, you need to have some general experience with Windows/Linux OS and scripting languages (Powershell, CLI) for the course labs.
A completed Certified Azure Administrator (AZ-104) course or equivalent knowledge and hands-on experience will be a requirement. The Azure Fundamentals (AZ-900) training course is beneficial but not required.
Necessary equipment
For this training, you need to bring your own laptop. It must meet the following requirements:
The most recent version of Visual Studio is installed.
It's provided with an Azure (Trial) subscription.
What else should I know?
Taking the AZ-500 exam (once) is included in the price of the training. If you pass, you will receive the Microsoft certificate (Microsoft Certified: Azure Security Engineer Associate).
Also included: all study materials and a delicious lunch on all course days!
The training is given in English. If desired, we can give this course in Dutch, in the form of in-company training.
Travel and accommodation costs are at your own expense.